[837.8 MB] [HCG] Tokyo Necro (Nitroplus / Nitro +) [Cen] [Guro, Oral Sex, Anal Sex, BDSM, Drama, Yuri]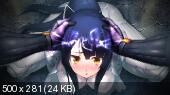 Tokyo Necro / トウキョウ · ネクロ
Developer / Publisher: Nitroplus / Nitro +
Publisher Website: http://www.nitroplus.co.jp/game/tokyonecro/[123 Distribution Distribution: HCG
Censorship: There are in all files
Genre: Guro, Oral Sex, Anal Sex, BDSM, Drama, Yuri
Number of pages: 644
Format: .png
Description: He Protagonists, Nagaoka Souun and Kibanohara Ethica, Are youung "Private Special Living Dead Stalkers". By Practicing a Special Kind of Martial Art Called "Close Quarter Armed Martial Arts", Both Of Them Have Achieved Great Heights In Their Career.
Out on a Mission One Day, Souun Becomes Involved in A Fierce Battle and Meets a Young Girl . REMEMBERING NOTHING BUT HER NAME, "HOUGYOU ILIA", SHE HAS BECOME THE TARGET OF A MYSTERIOUS GROUP OF NECROMANCERS.
The Ice-Cold Tokyo of Gunpowder Smoke, LiviNG DEAD, CRIME AND CYBERNETICS. NOW BEGINS THE BATTLE OF THE LIVING DEAD STALKERS AND THE HEROINE WITH THEIR LIVES AT STAKE.