[837.8 MB] HENTAI APCALYPER ZUBRIUS (SUKURA CCHI ☆ (scratch)) [Cen] [Action, Arcade, Animation, Rape, Succubus, Princess] [jap]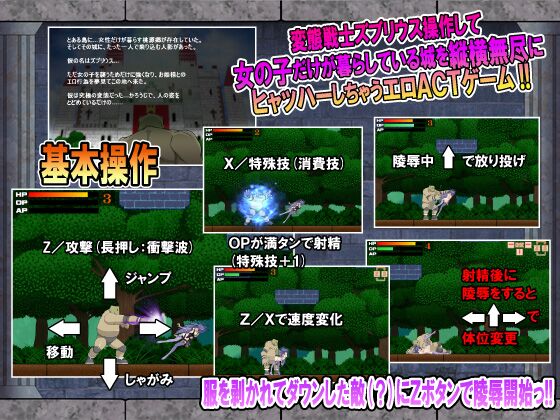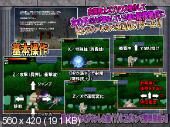 HENTAI APCALYPER ZUBRIUS / 変態 黙示録ズブリウス Release Date: 2013/06/15
Genre: Action, Arcade, Animation, Rape, Succubus, Princess
Censorship: There are in the game
Developer / Publisher: Sukura CCHI ☆ ( SCRATCH, スクラ っち ☆)
Platform: PC / Windows
Type of publication: License
Tabletka: Not required
Language of the game; Interface language; Voice Language: Japanese
System Requirements: [PC] WindowsXP / Windows7 CPU; Pentium4 or greater; Memory 1GB or greater; HDD 836MB or greater
Description: You are Zubrius, The Hentai Warrior Who Fell in Love with the Princess and Will Do Anything to Get To Her.
* Jump, Pummel and f * ck a Swath of Destruction Through the Outercastle Town and Lowside and the Lady-Filled Castle Itself.
* Bring Your Mighty Fists Down and Thrust Your Might MEat Between The Legs of Sexy Archers, Harpies, Angels, Demons, Succubi, Valkyries, Slime Girls and More. Obliterate All Obstacles in Your Love-Driven Castle Siege!
* Each Character Has a Variety of Sex Acts: Blowjob, Breast Sex, Anal and Massive Vaginal Penetration Are Your Tools of Pelvic Destruction. Max Out The Orgasm Gauge and Blow a Hulking Load On Sport Women. Zubrius SMASH P * SSY!
* Voiced! Sound Effects! BGM! Continues, Save Points, Sex Scenes in Your Very Own Gallery (With Zoom Feature)!
Are you read to bring the hentai apocalypse? Become Zubrius!
You Will Not Stop Until The Princess Is In Your Gargantuan Hands!
* Please Play Teh Trial Version to Confirm Compatibility.