[854 MB] Stainless Night / Night without fear and reproach (Otonashi Ryuunosuke, Elf / Pink Pineapple / Media Blasters / Kitty Media) (EP. 1-2 of 2) [UNCEN] [1995-1996 Romance, Yuri, Androids , Futanari, DVDRip] [JAP / ENG / FRA / RUS]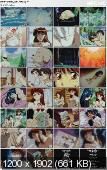 ステンレス ナイト
Stainless Night
Night without fear and reproach
Year of production: 1995
Genre: Romance, Yuri, Androids, Futanari
series: EP. 1-2 of 2
Duration: 2 * 30 min
Censorship: None
Voice: Japanese Original
Voice: English Professional (full duplication)
Voice: Russian amateur (one-haired) [Noir ]
Subtitles: English External SRT
Subtitles: French External ASS / SSA
Subtitles: Russian External SRT [Egor Zaitsev]
Director: Otonashi Ryuunosuke
Original author: Amagi Kei
Studio : Elf / Pink Pineapple / Media Blasters / Kitty Media
Description: Based on the manga by Amagi Kei
After Ten Years of Dormancy, Linea Awakens from a Capsule in The Countryside of Japan. Wort Any Memories, She Wanders INTO ASmall Research Center Staffed by Three Beautiful Women. Sayako, One of the Researchers, Is Entranced by The Strange Woman and Falls in Love. Leaving Misuzu, Her Present Lover, Sayako Takes The Stranger to Bed, and Finds That Her Abilities Are Beyond That of Any Ordinary Woman! However, A Second Capsule Opened Shortly After Linea's and Soon All Four of the Will Be in Terrible Danger. Mania.com
in Russian: After ten years of sleep in the capsule, Linea is awakened in the countryside of Japan. She does not remember anything. Wandering enters a small research and development center in which three beautiful women work. Sayako, one of the researchers, fascinated by Liney, and falls in love with her. She managed to lure line in bed! Soon the second capsule and girls will turn out to be in danger.