[889.7 MB] Dual Family [Inprogress, 0.99ce] (Gumdrop Games) [UNCEN] [2017, Adv, 3DCG, BIG BREASTS / BIG TITS, MOM, DAUGHTER] [ENG]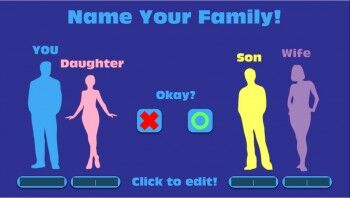 Dual Family
Year of Release: 2017
Genre: Adv, 3DCG, Big Breasts / Big Tits, Mom, Daughter
Censorship: None / There is a removal patch
Developer / Publisher: Gumdropgames
Platform : Pc / windows
Type of publication: in development
Tabletka: Not required
Version: 0.99ce
Language Games: English
Interface language: English
Voice Language: Unknown / Other [ 123] System Requirements (Minimum):
CPU: Athlon / Pentium 200 MHz
RAM: 64 MB
DirectX: 8.1 or higher
RAM: 512MB; VRAM: 128MB; HDD: ~ 900 MB.
Description: A Wife and Husband Can No Longer Stand Each Other – For more ReaSons The Care to Claim for. With Their Past Love Crushed and Family Seemingly Splitting At The Seams, An Exhausted Wife and Mother Seeks Sexual Validation. A Faultless Sister and DaughteTer Begins Her Inevitable Sexual Awakening. Choose Your Role As Father or Son And Witness Two Perspectives of One Family Falling to Pieces, Glasping for Any Possible Signs of Love in their Descent.