[890.3 MB] Hanappe Bazooka / Go Nagai (EP 1 of 1) [Uncen] [1992, Comedy, Mystic, Demons, DVDRip] [JAP / RUS / ENG] [Upscale – 720p]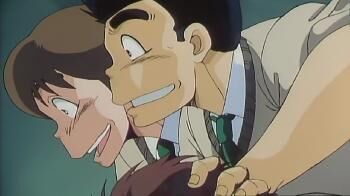 Hanappe Bazooka / 花平 バズーカ / Bazooka Hanapposter release: 1992
Genre: Comedy, Mystic, Demons
Series: EP 1 of 1
Duration: 45 minutes
Censorship: None
Language: Japanese
Voice: Original
Language: Russian
Voice: Amateur (One Voice) [Persona 99]
Subtitles: Built-in Discovered ASS [RG Lucky Clover]
Subtitles: Built-in SRT Disabled [Vandergun]
Subtitles: Built-in SRT Outdoled [SLM-1]
Language: English
Subtitles: Built-in SRT Disabled
Director: Go Nagai
Description: Lecherous High School Boy Yamada Hanappe Is Visited by Two Demons WHO STEP from His TV and Immediately Fall in Lust with His Mother and Sister. The Demons Turn Hanappe's Home INTO A Meeting Ground for their Demonic Friends and Grant Hanappe The Power Of THE HANAPPE BAZOOKA. NOW HIS INDEX FINGER IS CAPABLE OF BOTH A DEADLY BLAST AND THE ABILITY TO DRIVE WOMEN IN A LUSTFUL FRENZY, BUT HANAPPE IS NOT VERY GOOD AT CONTROLING IT AND WINDS UP IN SERIOUS TRUBLE.
Description: High school student Khanappe – Slinder and loser. His girls do not like, hooligans are crushing, parents do not notice and ridicule the older sister. But one fine evening, when Hanappe exhausted by the life was locked up with a porno tape and photography of school activist, he was suddenly the demons – a monster Bazooka and an evil Nekisto Dance. They promise schoolboy unheard of power and the ability to manage the whole world. It sounds tempting, but deals with demons always entail unforeseen consequences … © Anastasia Rozanova
Video quality: DVDRip
Video resolution: Upscale -720p
Video Format: MKV
Video: 1280×720 23.98fps ~ 2000-2600kbps
Audio 1: JAP – AC3 48000HZ STEREO 192 KBPS (built-in)
Audio 2: RUS – AC3 48000HZ STEREO 192 KBPS ( Built-in)
If you want to: translate, voice, distribute hentai, join our secret guild !!!