Flashjokeoftheday.com (all 80 issues) [2000-2003, Cartoon, Comedy, Humour] [ENG, RUS Subs]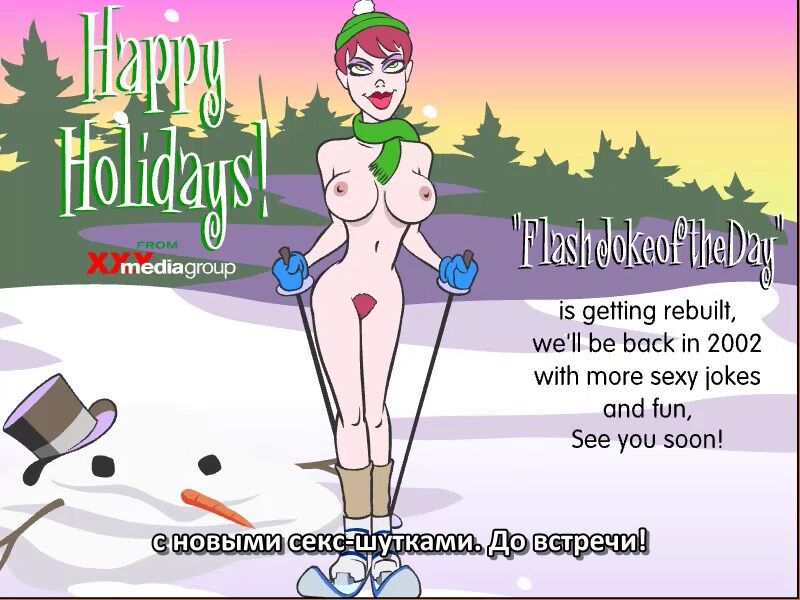 Flashjokeoftheday.com
Year of release: 2000-2003
Number of rollers: 80
Genre: Cartoon, Comedy, Humour
Duration: 01:42:18
Language: English
Subtitles: Russians, turned off
Description: A complete collection of comedy erotic rollers, published weekly on flashjokeoftheday.com from the end 2000 to early 2003. The plots were taken from the jokes sent by the audience, 50 $ paid for a successful joke, so humor on the highest mark, as well as Ricovka (in the middle of 00s, this style copied the domestic antimult). With the participation of George Bush, Alberta Mountain, George Clooney, Al Pacino, Elvis Presley, David Copperfield, Holmes and Watson, but the main thing – naked figure skamers!
Extras. Information: I converted rollers from the deceased Flash format to the video format MP4 and made subtitles with Russian translation. In some rollers there are untranslated English-speaking Kalaburas (Nos№1, 3, 8, 9, 23, 34, 37, 39, 45, 44, 59, 63, 72, 73, 79), so in the appropriate places the translation is not literal , and Fangs another Russian-speaking pun. Some places on the rumor did not quite understand, approximately (№№14, 56) were translated, the amendments are accepted.
Positive differences from the previous distribution: all 80 issues instead of 40; Higher quality (600p instead of 264p); every edition in your file instead of a single file; Disabled subtitles instead of a clogging of the original sound of duplication; Fixed many translation errors (Nr. No. 23, 37, 45).