YU81.CH MbShmiden Maker (M. M. Vanofakturing) Yusnyshchi Yu2013, ZHRPG, Maid, Fantasy, Lesbian, Hermafroditis Yuapsch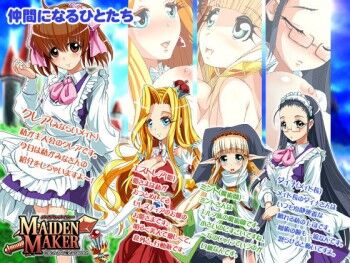 Maiden Maker / メイデン メイカー ~ ~ と メイド メイド と 魔術 師 の の の ~ ~ ~ ~
Year of release: 2013
Release Date: 2013/06/19
Genre: JRPG, Maid, Fantasy, Lesbian, Hermaphrodite
Censorship: there is in the game (games) distribution
Developer / Publisher: M.OMANUFACTURING (MO 製作 所)
Platform: PC / Windows
Type of publication: License
Tabletka: Not required
Language games : Japanese
Interface Language: Japanese
Voice Language: Japanese
System Requirements: OS: XP / WindowsVista / Windows7, CPU: Intel (R) Pentium ((R) 4 2.0 GHz or Fast (512 MB Or more recommended) HDD memory space 86 MB (100 MB recommended) DirectX 9
Description: ■ Talk ■
Threatened by The Resurrection Of Satan, Peaceful Country Cerestia.
Chasing the Princess Was Missing Suddenly
Apprentice Made "Claire" is setting off on anAdventure.
■ ■ ANY GAME
IT IT An RPG Going in Order to Clear The Dungeon That Is Provided.
Level Up in the Dungeon Clear.
Let's Prepare for the next Dungeon by Collecting Items To Defeat The Enemy.
One Person At a Time Felow Will Increase by Four-Party Standard.
25 Base Images, CG Total Number of About 260 Pieces of Difference.
About 6 Hours WITH All CG Recovered Play Time .
Done Without Seriously
There IS A Cheat Basis and Equipment CG Open.
Please See The Readme of Decompression Folder, for more details.
Add. Information: JapDlsite
The Game is Produced in "RPG Maker VX ACE".