[1.28 GB] School Life / School weekdays [INPROGRESS 0.4.7] (PS1X & Samanta) [UNCEN] [2013, ADV, SLG, SIMULATOR, ANAL, BlowJob, All Sex, Rape, Lesbians, Futanari, Tentacles] [rus]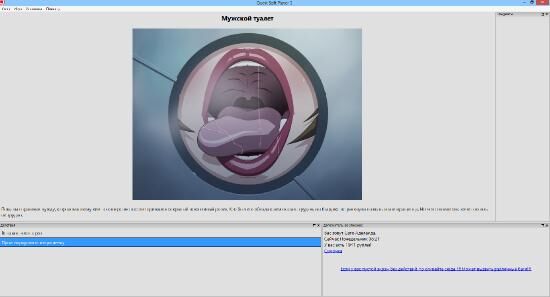 School Life / School weekdays
Year of release: 2013
Date of renovation: 2020/12/29
Genre: Adv, SLG, Simulator, Anal, Blowjob, All Sex, Rape, Lesbians, Futanari, Tentacles [123 ] Censorship: None / There is a deletion patch
Developer / Publisher: PS1X & Samanta
Platform: PC / Windows
Type of publication: Pirate (unofficial)
Tabletka: Not required
Version: 0.4 .7
Game Language: Russian
Interface Language: Russian
Voice Language: Unknown / Other
System Requirements (Minimum): OS: WinXP / Vista / 7, CPU: PentiumIi 450 MHz, RAM: 64 MB, VRAM: 64 MB, HDD: ~ 1 GB
Description: School weekdays – a textographic game created on the QSP platform.
At the beginning of the game, you are offered to create a school with certain parameters, teachers and students. You can configure as an appearance soAnd the character traits of each individual character. Then, we are given the opportunity to take the Brazda Board with one of the established students. Who? You decide. Guy, girl, feet … for everyone there are a pack of interesting events and actions. NPC (other schoolchildren and teachers) will not stand still and wait until the GG contact them. They go to school, be friends with other NPCs or with you, some fall in love with each other, some even fight, hate or humiliate others, variants are many. Outside school too, there is something to do. Go to the beach, to the club, to the church … or even ascend to visit to your friend / girlfriend, in order to spend time. Full freedom of action, a huge number of opportunities. This and much more awaits you in the game "School weekdays".
Extras. Information: Forum AvtOrs
With questions and wishes for the game, you can contact there, there you can also express your gratitude to the authors.
Distribution updated to version 0.4.7 Fix 17
Alternator also added a school generator from Vironio – located in the SDBQSP folder
If you error 104 after sleep, check whether it is not worth reading the attribute on the folder with the game.