[1.3 GB] YouJuu Kyoushitsu Gaiden / Demon Beast Resurrection / Revival Demon (FUKUMOTO KAN) (EP. 1-4 of 4) [UNCEN] [1996 Fantasy, Horror, Oral, Bondage, Tentacles, DVDRip] [JAP / ENG / rus]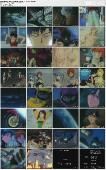 妖獣 教室 外伝
Youjuu Kyoushitsu Gaiden
Demon Beast Resurrection
Revival Demonstration
Year of production: 1996
Genre: Fantasy, Horror, Oral, Bondage, Tentacles
Series: EP. 1-4 of 4
Duration: 4 * 30 min
Censorship: None
Voice: Japanese Original
Voice: English Professional (full duplication)
Subtitles: English external SRT
Subtitles : Russians [Rubicon] External SRT
Director: FUKUMOTO KAN
Original author: Maeda Toshio
Description: Demonsell arrives from the radioactive emptiness of the cosmos! A disgusting alien monster, separating mental communications with the beautiful Girl Kaio. Related past and terrible rape, it is doomed, again and again attract it to Earth. A moan of her exhausted soul inSites Demonstrating from the parallel world, which craves blood and terror!