[1.44 GB] Tenkousei / Transfer Student / New (Muraki Kazuma, Pink Pineapple) (Ep. 1-4 of 4) [UNCEN] [1996 School, Romance, Softcore, DVDRip] [JAP / ENG / RUS]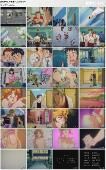 転校生
TENKOUSEI
Transfer Student | New
Year of production: 1996
Genre: School, Romance, Softcore
Series: EP. 1-4 of 4
Duration: 4 * 30min
Censorship: None
Voice: Japanese Original
Subtitles: English external ASS / SSA
Subtitles: Russians [Narrru | Torrent Ivanivanych] External ASS / SSA
Director: Muraki KaZuma
Studio: Pink Pineapple
Description: Less continuation of the Doukyuusei series (Summer end) and Kakyuusei, although with other characters, but in such situations. It is more school romance and hardly hentai, if I'm not mistaken. Pretty Harem Anime, where the chief hero in different episodes can come close to different girls.
Video quality: DVDRip by Torrent Ivanivanych
Video format: MKV
Video: MPEG4 video(H264) 704×480 23.976fps ~ 1600 Kbps [10bit]
Audio: Dolby AC3 48000HZ STEREO 192KBPS