[118.9 MB] Majikishi (Itsumukaikaze, Head Wind Always) [Cen] [v1.11] [2013, JRPG, Boobs, Fantasy, Lesbian, Tentacle, Rape] [jap]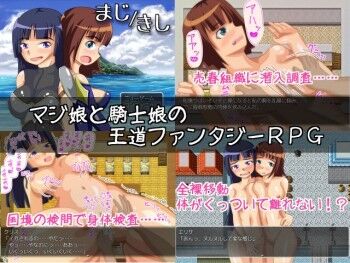 MAJIKISHI / まじき し
Year of release: 2013
Release Date: 2013/06/28
Genre: JRPG, Boobs, Fantasy, Lesbian, Tentacle, Rape
Censorship: There is in the game (games) distribution
Developer / Publisher: ITSUMUKAIKAZE, Head Wind Always (いつも むかいかぜ)
Platform: PC / Windows
Publication Type: License
Tabletka: Not required
Version: V1.11 Update version – Upgrade Torrent
Language of the game: Japanese
Interface Language: Japanese
Voice Language: Japanese
System Requirements: OS: XP / WindowsVista / Windows7, CPU: Intel (R) Pentium ((R) 4 2.0 GHz or Quick (512 MB or more recommended) HDD memory space 120 MB (200 MB recommended) DirectX 9
Description: Story
Two Kingdoms Battled for Control of the Bountiful Island of Eizel.
Kurisu The Knight Of the Kingdom of EizenbUrg Was Separated from Her Unit.
She Made Her Way Toward The Magician of the Kingdom
of Fulwar Was Waiting. SINCE KURISU WAS NOT FAMILIAR WITH THE TERRITORY,
SHE HAD TO RELY ON SWORN ENEMY TO MAKE IT Back Home …
* Class Change System (Customize Your Look and Your Skillset)
* Streamlined Gameplay Features (Battle Skip, Message, Skip, Symbol Encounters)
* H Events (Consensual, Monster Assault, Naked Roaming, etc.)
* Lots of Content
30 Scenes / 30 CG Base Images
193 Total Images incl. Variations
Each Scene Has Around 50 Clicks of Story Text
SCENE REPLAY, CG AppReciation Mode, ETC All Included
Add. Information: JapDlsite.