[14.8 MB] SIN Party / Sinner Party [UNCEN] [2009, RPG] [RUS]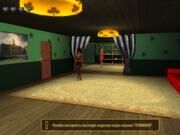 SIN Party / Sinner Party
Year of production: 2009
Genre: RPG
Censorship: MissingPlatform: PC / Windows
TYPE TYPE: Modified (pirate)
Tabletka: Presence: Russian [123 ] Type of translation: text and sound in this language (original) System Requirements: CPU 2GHz, 512MB, 128MB VIDEOBACK: SIN Party is one of the few three-dimensional erotic quests. You act as a guy, whom Julia's girlfriend invites to a party. After catching the mansion, you find out that in the house there are some girls and a single guy. This is only your hand. Your goal is to meet and fill in the bed of all girls. However, do not think that it will be so simple. Each girl needs an individual approach. Some hate rudeness, others simply adore her. Forward – To conquer the fenceKih hearts and other places.