[158.7 MB] Dragonball – Wife Quest / Yomesan Quest – Dr.Gero's Ambition [CEN] [2011, JRPG, Adventure, Rape, Pregnant, Fat, Monsters, Comedy] [jap ]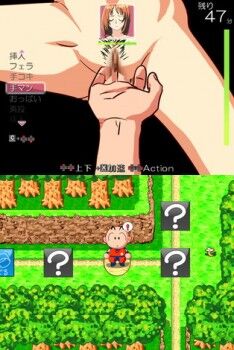 DB 外伝ク ○ リン 伝 ヨメサンクエスト ~ ド ○ ○ ターゲロ の の ~ ~ 伝 伝 ヨメサンクエスト ヨメサンクエスト ~ ド の ~ ~ / YOMESAN QUEST – Dr.Gero's Ambition-release date: 2011/06/16
Date of renovation: 2012/11/20
Genre: JRPG, Adventure, Rape, Pregnant, Fat, Monsters, Comedy
Censorship: There are in the game (games) distribution
Developer / Publisher: Retasu (れたす)
Platform: PC / Windows2000 / WindowsXP / WindowsVista / Windows7
Type of publication: Original (licensed)
Tabletka: Not required
Version: Ver.1.2.1
Language: Japanese
Type of translation: Text and sound in this language (original) [123 ] Interface language: Japanese-minimum system requirements:
:: HDD 150MB Description:
The Search Begins for Krillin's Wife.
A Dr * Gon Ball Parody Rpg Adventure!
This game features not just Dr * GON BALL GIRLS, BUT CHARACTSER FROM Other Manga, Anime and Games.
BestialitY, R * PE, Pregnancy and Of Course Consensual Sex Shall Be
Had in Copious, Glorious Detail! YOU CAN EVEN IMPRIGNATE MINOR CHARACTSERS.
ENJOY THE SEX HOUSE INSIDE THE GAME TOO.
Official Site:
http://yomesanquest.retas.info/
* Please Check The Demo to Confirm Compatibility.
* RECOMMEND PURCHASE WITH A MEMBERS ACCOUNT.