[261.5 MB] Resident Dildo (Aphrodite) [Cen] [2014, Zombie, Violation, Sexual Training, Rape, Tentacle, Toys] [jap]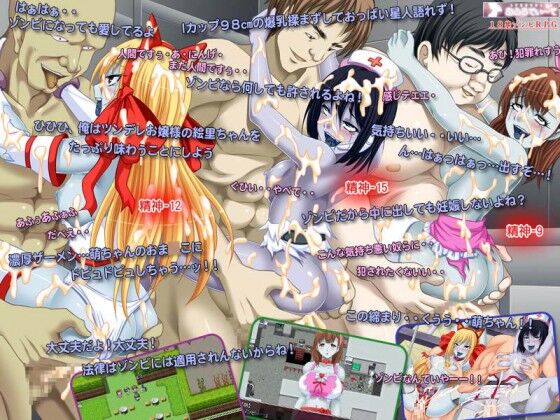 Vibohazard / Resident Dildo / バイブ ハザード ~ ~ ゾンビ 化 し し メチャクチャ メチャクチャ られ られ まし た ~
Year of release: 2014
Release Date: 2014/06/20
Genre: Zombie, Violation, Sexual Training, Rape, Tentacle , Toys
Censorship: Present
Developer / Publisher: Aphrodite
Platform: PC / Windows
Type of publication: Original (licensed)
Tabletka: Not required
Language Games: Japanese [123 ] Interface language: Japanese
Voice language: Japanese
System requirements (minimum): OS: WinXP / Vista / 7.8.10
CPU: PentiumIII 450 MHz,
RAM: 64 MB, [ 123] VRAM: 64 MB,
HDD: 530 MB
RPG TKOOL VX ACE RTP
Description: [R-18 Zombie RPG]
An Unanticipated Disaster At The Biolab.
The Explosion IS Traced to the Dna Room. Deadly, Potent Fumes Spread.
Those Fumes Infect Three Female Lab Assistants …
CURRENT BIOLogical Status: Unknown.
Alive But Changed. Some A using the Word "Zombie".
* The Infected Women Are Not Human. THEY ARE NOT HUMAN. *
The Men In The Biolab Are Realizing Something.
Twisted, Immoral Ideas Spread Fast Like A Virus of the Mind:
Nothing the CRIME.
Violation. Prostitution. What if the round up the zombie women
and Brainwash Them? Imagine The Libido of a Crazy, Bioengineered Sex Scientist.
Dispose of the Ones You don't Need. They're Not Human.