[33.8 MB] Knightess Remilia In The Dirty Dungeon (Blue Scissors) [CEN] [2013, JRPG, Rape, Oral, Anal, Big Tits] [jap]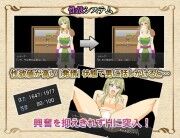 KNIGHTESS REMILIA IN THE DIRTY DUNGEON / 女 騎士 レミーア レミーア の 淫ら な ダンジョン ダンジョン
Year of release: 2013
Release Date: 2013/11/16
Genre: JRPG, Rape, Oral, Anal, Big Tits
Censorship: There is in the game (games) distribution
Developer / Publisher: Blue Scissors (ブルー シザース)
Platform: PC / Windows
Type of publication: License
Tabletka: Not required
Game Language: Japanese
Interface Language: Japanese
Voice Language: Japanese
System Requirements: CRU: Pentium4 1.5GHz
Memory: 256MB
HDD: 50MB
Description: * Story *
Remilia Was The Best Knight in Her Village.
She Defended the Peace and Taught The Men How to Swordfight As Well.
One Day A Great Earthquake Hit The Village.
A Fissure in the Earth Cracked Wide Open, Revealing A Deep Cave.
WHEN REMILIA INVESTIGATED, SHE CURSED by THE MONSTSERSDwelling Within.
Now Remilia Needs To Break Her Curse, Before IT Consumes Her.
* An Erotic RPG With Dynamic Outfits and Events Based on "Lewdness" – IT Even Affects Boss Events
* With Bad Ending and Reminise Modes.