[387 MB] Three Kingdoms Tales: Chapter 1 [1.4] (RINBA) [UNCEN] [2017, RPG, ADV, 3DCG, Female Heroine, Oral Sex, Rape, Straight, Prostitution] [ENG]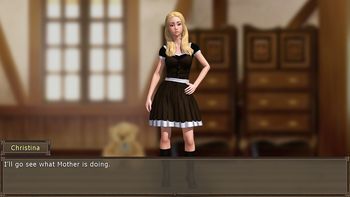 Three Kingdoms Tales: Chapter 1
Year of release: 2017
Release Date: 2017/12/13
Genre: RPG, ADV, 3DCG, Female Heroine, Oral Sex, Rape, Straight, Prostitution
censorship : None / There is a patch to delete
Developer / Publisher: Rinba
Platform: PC / Windows
Type of publication: Original (licensed)
Tabletka: Not required
Version: 1.4
Language Games (Plot): English
Interface Language: English
Voice Language: English
System Requirements (Minimum):
OS: Microsoft® Windows® XP / Vista / 7/8/10 (32- Bit / 64-bit),
CPU: Intel® Pentium® 4 2.0 GHz Equivalent or Faster Processor,
RAM: 512 MB or More,
HDD: 800 MB or More Free Space.
Description : Three Kingdoms Tales IS An Adult Episodic Adventure Game with Stealth Elements and Turn-based COMBat. You Play As Two Characters: A Young Village Girl Christina and A Knight Fallen from Grace Roderick. They Don't Know Each Other and Live in Different Places, But Still Have One Thing in Common. They Both Have to Leave Their Homes and Travel to a Neighboring Northern Kingdom Which is in a State of Civil War. A LOT OF CHALLENGES AWAIT THIS LONG DANGEROUS JOURNEY, AND IT'S ONLY UP TO YOU TO DECIDE HOW TO FACE THESE CHALLENGES. But be Careful with the choices you make How This Story May End and Not Many of Them Can Be Described As a Happy Ending.
Features
Nonlinear Gameplay. Make Choices, Face Consequences.
Story Focus. Dive INTO A Deep Story of a Journey. Watch How, AS The Journey Goes On, Not Only The Scenery Changes But The HerOes ThemSelves.
Realistic Fantasy Setting. Forget About Absolute Good / Evil, Armored Bikinis, Giant Swords, Colorful Hars. Explore A Brutal Medieval World with Some Fantasy Elements.
Two Main Characters. Play As Two Heroes That Have Different Views of the World and Different Ways of Solving Problems. See How Their Initially Independent Stories Intertain More and More With Time.
My Blog: https://rinbagames.blogspot.com
My Patreon: https://www.patreon.com/rinba