[4.09 GB] Strip-Poker: Jessica / Strip Poker: Jessica (Liwo Production, New Disc) [UNCEN] [2007, Adv, Striptease, Card-GEME (Poker), Pal, DVD5] [RUS]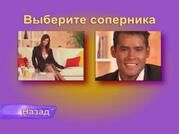 Strip-Poker: Jessica / Strip Poker: Jessica-Year of production: 2007
Genre: Adventure, Striptease, Card-GEME (Poker)
Censorship: None
Developer: Liwo Production
Publisher : New Disk
Platform: PC / Windows
Type of publication: Original (licensed)
Tabletka: Not required
Region: PAL
Disc type: DVD5
Language: Russian
Translation type: text and sound in this language (original)
System Requirements: For the game, enough DVD player-Description: Poker is one of the most gambling games invented by man. The combination of the will of the case and accurate calculation make the game extraordinarily fascinating both for participants and for the audience. What could be more interesting poker? Only poker for undressing!
Interactive DVD * Strip Poker: Jessica * gives you the opportunityIt is to play aunt-a-tete with a charming girl who not only knows how to play well, but also stands beautifully. With such an opponent, you definitely will not be bored! – Information:
Interactive video game for undressing.
Simple and understandable control from the DVD player console.
A delightful girl will not give up.
The best way to rest after a hard day.
The disk is presented in the format * Interactive DVD *, which allows you to lose it not only on the computer, but also on the usual household DVD player!
Language Interface: Russian.
System Requirements:
Household DVD Player or Personal Computer, equipped with a DVD Device Device and the DVD Video Playing Program (preferably PowerDVD).