[429.6 MB] I AWOKE AS A BEATIFUL YOUNG GIRL / MEZAMETARA, BOKU GA KAWAII Onna No Ko / When I woke up, I became a pretty girl (Morningstar, Morning Star Rush / a Matures) [Cen] [2011, Big Tits, Group Sex, Gender Bender] [jap]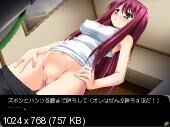 目覚め たら ボク 愛 愛 愛 い子 / i awoke as a beautiful young girl / mezametara, Boku Ga Kawaii Onna No Ko / When I woke up, I became a pretty girl
Year of production: 2011
Genre: Big Tits, GROUP SEX, GENDER BENDER
Censorship: There is in the game (games) distribution
Developer: MorningStar / Morning Star Rush / A Matures
Publisher: G Spot & MorningStar
Platform: PC / Windows
Publication Type: Original (licensed)
Tabletka: Not required
Language: Japanese
Type of translation: Text and sound in this language (original)
Interface language: Japanese
System Requirements: [PC ] WindowsXP / WindowsVista / Windows 7 L CPU: Pentium3-1GHz (Minimum) /Pentium4-1.5GH (recommended) L RAM: 512 (XP) / 1024 (Vista / 7) L Video Card with 32 MV memory or higher.
Description: The guy woke up and discoveredHe lived in his sex signs of a girl. The hero was first confused, but then the sister explained to him what he had, and he began to enjoy the right and left.