[45.4 MB] [MISC] Dean Yeagle Work Collection [ENG, JPG]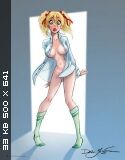 Dean Yeagle Work Collection
Distribution type: MISC
Format: jpg
Language: English
Description:
I present to your attention the American artist Dina Needle. The entire collection consists of 338 Rusunks and divided into 4 parts:
– Mandy
– Mandy (Sketches)
– Other Girls
– Scribblings
Biography from its official website:
Dean Yeagle Started in Animation in Philadelphia, PA. After Marrying Barbara (Also An Artist, and Musician) And The Birth of Their Daughter Becky, The Need for Actual Money Drove Them to New York, and a Job As Designer, Animator and Eventually Director with One of the Top Animation Houses in NYC. In 1986, WITH PARTNER NANCY BEIMAN, HE OPENED CAGED BEGLE PRODUCTIONS, INC., A FULL-SERVICE ANIMATION STUDIO, AND HAS PRODUCED, DIRECED, DESIGNED AND ANiMated Innumerable TV Commercials and CD-ROMS, with clients across the United States and Europe. Dean was named Animator of the Year by the National Cartoonists Society.
He also does work for corporate clients, designing characters for various products, and works on a continuing series of children's books, designs the occasional toy, and contributes cartoons to Playboy Magazine. In Oter Words, He'll Do Pretty Much Whatever Swims Before His Startled Gaze.