[481.8 MB] Menimisu (Miji ISHI) [CEN] [2014, JRPG, Fantasy, Sisters, Netorare, Incest, Big Breasts] [jap]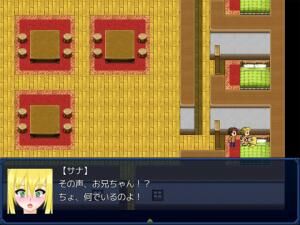 Menimisu / メニミス Year of release: 2014
Release Date: 2014/01/31
Genre: JRPG, Fantasy, Sisters, Netorare, Incest, Big Breasts
Censorship: There are in the game (games) distribution
Developer / Publisher: Miji ISHI (みじい し)
Platform: PC / Windows
Type of publication: License
Tabletka: Not required
Language of the game: Japanese
Interface language: Japanese
Voice language: Japanese
System Requirements: [PC] WindowsXP / WindowsVista / Windows7 / Windows8
CRU: Pentium4 2.0GHz
Memory: 512MB
HDD: 500MB
Description:
■ Story ■
I Will Ya Anything and Sister in Certain Town.
■ System Overview ■
My Sister In The Alchemist, You Can make the item. Magic Ball Extracted From The Semen of the Organism Is Required in Alchemy. There IS A Concept of Time, Time Will Advance by Making A PARTICULAR ACTION. IT Becomes The Multiple Endings. IT CAN Play Around, You Can New Game Taking Over The Item and Status. I CAN SKIP SCENE, ALSO SKIP THE MESSAGE.
■ COMBAT ■
A Symbol Encounter, IT IS NO Game Over, Except for the Part. Sister Is Caught and Lose It to Specific Enemy.
■ Event ■
You can make a man NetoRare Other Sister In The Middle of the Night. If IT FINDS A Sister Who Is With Another Man In The City, It Is Possible to Look Through The Act of Sister. Sister Is Caught and Lose It To a Specific Party. Event Occurs Time Has Elapsed While Caught. IT Becomes Baddoendo If The Limit Is Exceeded A Certain Period of Time.