Y210.7 Mbshukumkschsch Rapestores 3D 1-5 Yueng, Zhpgish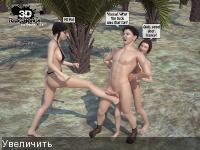 Rapestories 3D 1-5
Distribution Type: Comix
Format: jpg
Language: English
♥ Description:
There's Always Competition Between Women in An Office WHEN IT COMES TO GOOD POSITIONS, BUT THIS Chick Got More Than She Bargained for When She Demanded An Interview For An Assistant Position That Was Already Taken. She Didn't Know That The Most Important Job Was To Please The Bosses' Cock At All Costs, And She Was About To Found Out What That Entailed! She Wasn't Very Receptive To the Idea, But She Was No Match for His Power, As He Slammed Her Throat with His Cock Before Plunging IT Deep Inside Her Pussy While She Kicked and Screamed. He Kept On Banging Her Relentlessly Until He Came All Over Her, And Then She Made The Wrong Move What She Kicked Him From Behind for Taking Advantage Of Her. TH.EN NOT Only Was She Being Held Down by Him, But Held Down By The Chick She Tried to Steal The Job From, As She Was Made to Lick Her Pussy While Taking His Cock Up Her Asshole. They Ordered Her to Do A Good Job And Take All of His Cum On Her Face, Or Who Knows What Would Have Happened Next.